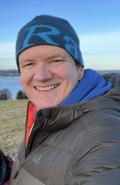 Dr Andrew Blight

Laboratory Manager/Research Fellow
I am the laboratory manager for the Sediment Ecology Research Group (SERG). I am responsible for coordinating much of the research, training, teaching and administration within the group. I also coordinate the BL3000 Field Course module and teach on a number of other undergraduate and postgraduate modules within the School of Biology: BL1102 Biology 2, BL3308 Aquatic Ecology, BL3318 Biology of Marine Organisms, BL4201 Experimental Research Project and BL5304 Ecosystem-based Management of Marine Systems.

Prior to this I was a Research Fellow working on VECTORS; a large EU FP7 funded project which Finished in February 2015 (www.marine-vectors.eu). It consisted of 37 project partners from a variety of research institutions across Europe. The project set out to elucidate the drivers and pressures that cause change in marine life, the mechanisms by which they do so, their impacts on ecosystem structures and functioning and on the economics of associated marine sectors and society. It particularly focused on causes and consequences of invasive alien species, outbreak forming species and changes in fish distribution and productivity. I was directly involved with Work Package 3.1 which is split into three sections: systematic reviews on the impacts of macroalgal blooms and invasive ecosystem engineers; Biological Traits Analysis (BTA) which examined the link between biodiversity and ecosystem functioning; a case study which examined the impact of the invasive Chinese mitten crab (Eriocheir sinensis) on sediment ecosystems.

Research Overview:
Data could not be retrieved from PURE at this time. (research-outputs/persons)
If there is a "source:research@st-andrews" link shown above, that should take you directly to a page with more information about this person. Otherwise, provided they are likely to be involved in research, you might wish to try searching for them from the
researchers page
on the main portal.
The Secretary
Scottish Oceans Institute
Institiud Chuantan na h-Alba
Gatty Marine Laboratory
East Sands St Andrews
KY16 8LB
Scotland
UK
tel: +44 (0) 1334 463472
fax: +44 (0) 1334 463443
email: soi@st-andrews.ac.uk