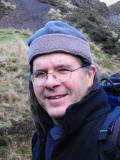 Prof Tony Prave

Head of School; Director of Finance
I am interested in unravelling the geological archives of those curious and intriguing periods of our planet's history that record global-scale readjustments of the Earth system. My research is steeped in detailed field geology and I collaborate with geochronologists and isotope geochemists to try and create datasets that underpin, constrain and test ideas about the causes and consequences of those fascinating times of wholesale environmental change.
Recent publications
2  (of 2 published available) for ap13 with keyword
Boron
clear keyword filter
. (source: University of St Andrews PURE)
Please click title of any item for full details.
2014 
(15/6)
Earth and Planetary Science Letters

vol.396 pp.66-77

(Article)
2014 
(12)
Geology

vol.42 pp.1103-1106

(Article)
Ocean acidification in the aftermath of the Marinoan glaciation
Frank Ohnemueller,
Tony Prave,
Anthony Edward Fallick,
Simone A. Kasemann
Keywords: Snowball Earth, Doushantuo formation, Carbon isotope, South China, Boron, Hypothesis, Seawater, Section, Calcium, Models
The Secretary
Scottish Oceans Institute
Institiud Chuantan na h-Alba
Gatty Marine Laboratory
East Sands St Andrews
KY16 8LB
Scotland
UK
tel: +44 (0) 1334 463472
fax: +44 (0) 1334 463443
email: soi@st-andrews.ac.uk