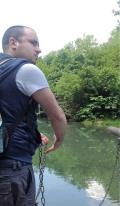 Mr Christopher Sargeant

Postgraduate Student
My research is focussed on the ecohydrological interactions within lowland floodplain environments. Specifically, I am interested in understanding how climate induced hydrological variability controls water availability for tree growth in riparian ecosystems. Currently this project is aimed at elucidating these processes under a Mediterranean climate.
Oxygen isotope systematics are a key tool in this research, with analyses of local and regional waters as well as tree-ring (cellulose) δ18O providing a means by which to investigate theses connections at historical timescales. Advancing on previous theories of riparian eco-hydrology, my research is aimed at providing retrospective, sub-annual resolution to hydrological processes and how these impact the water available for growth of different tree species. The next step in this research is to couple oxygen with carbon isotope (δ13C) analyses to determine the physiological responses of trees to changes in hydrological partitioning within the riparian zone.
Field research has been conducted along the lower Rhône River, southern France, which involves collection of shallow groundwater, soil and river waters, as well as precipitation. As well as investigating the effects of Mediterranean climatic changes on ecohydrology, sections of the Rhône have been heavily modified by anthropogenic activity which provides the research with the potential to assess restoration schemes currently being undertaken.
My interest in isotope systems as a tool for tracking changes to the environment was established during my time as an undergraduate where my honours dissertation utilised carbon and oxygen isotope ratios within foraminiferal calcium carbonate to detect changes in eustatic sea-level associated with the collapse of the last ice-sheets.
Publications
Sargeant, C & Singer, MD 2016, 'Sub-annual variability in historical water source use by Mediterranean riparian trees' Ecohydrology., 10.1002/eco.1730
Singer, M.B., Sargeant, C.I., Piégay, H., Riquier, J., Wilson, R.J. and Evans, C.M., 2014. Floodplain ecohydrology: Climatic, anthropogenic, and local physical controls on partitioning of water sources to riparian trees. Water resources research, 50(5), pp.4490-4513.
Bird, M. I., Austin, W. E. N., Wurster, C. M., Fifield, L. K., Mojtahid, M., & Sargeant, C. (2010). Punctuated eustatic sea-level rise in the early mid-Holocene. Geology, 38 (9), 803–806. doi:10.1130/G31066.1
Conference attendance
European Geosciences Union (EGU) General Assembly, April 2014. Vienna, Austria. Oral presentation.
American Geophysical Union (AGU) Fall meeting, December 2014. San Francisco, California, USA. Oral presentation.
Tree Rings in Archaeology, Climatology and Ecology (TRACE), May 2014. Aviemore, Scottish Highlands, United Kingdom. Oral presentation.
OHM, Observatoires Hommes-Milieux de l'Institute écologie et environment April 2013. CNRS, Lyon, France.
Grants awarded
Natural Environment Research Council (NERC) Doctoral Training Grant.
Department of Earth and Environmental Sciences Small research Grant, University of St Andrews, (£900).
NIGL Facilities Grant for 1,200 isotopic analyses (£72,000).
The Secretary
Scottish Oceans Institute
Institiud Chuantan na h-Alba
Gatty Marine Laboratory
East Sands St Andrews
KY16 8LB
Scotland
UK
tel: +44 (0) 1334 463472
fax: +44 (0) 1334 463443
email: soi@st-andrews.ac.uk