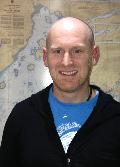 Dr Gordon Hastie

Senior Research Fellow
My research interests focus on how marine mammals' utilise the dynamic nature of their environment and how they adjust their behaviour in response to changes in their environments. This includes natural environmental changes and responses to man-made perturbations. As we see the increasing urbanisation of marine environments, I am particularly interested in how marine mammals perceive and respond to novel man-made sources in the ocean.
Recent publications
3  (of 3 published available) for gdh10 with keyword
Acoustics
clear keyword filter
. (source: University of St Andrews PURE)
Please click title of any item for full details.
2017 
(7)
Deep Sea Research Part II: Topical Studies in Oceanography

vol.141 pp.191-202

(Article)
2017 
(27/10)
Journal of Cetacean Research and Management

vol.16 pp.29-38

(Article)
Mitigation of harm during a novel behavioural response study involving active sonar and wild cetaceans
Brandon Southall,
Gordon Drummond Hastie,
Peter Lloyd Tyack,
Ian Boyd
Keywords: Acoustics, Conservation, Behavior, Management procedure, Short-term change, Beaked whales, Delphinids, Northern HemisphereNERC
2011 
(19/8)
Ecosphere

vol.2 pp.1-13

(Article)
The Secretary
Scottish Oceans Institute
Institiud Chuantan na h-Alba
Gatty Marine Laboratory
East Sands St Andrews
KY16 8LB
Scotland
UK
tel: +44 (0) 1334 463472
fax: +44 (0) 1334 463443
email: soi@st-andrews.ac.uk