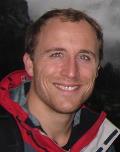 Dr James Rae

Research Fellow
My research focuses on Earth's carbon cycle and climate. I am particularly interested in major environmental change in Earth's past, including rapid CO2 and climate change during the ice ages, the long-term chemical evolution of Earth's ocean and atmosphere, and the enivornmental perturbations that led to mass extinction.
To address these questions I use novel geochemical measurements on fossils, sediments, water, and ice, with a focus on the boron isotope proxy for pH and CO2. I am a PI of the St Andrews isotope Geochemistry labs (STAiG), a state-of-the-art clean room and mass spectrometry facility. I also use a variety of numerical tools to explore mechanisms of environmental change, including the cGENIE Earth System model.
I'm also fascinated by biomineralisation processes in corals and foraminifera, and the insights that geochemistry offers into calcification and ocean acidification.
I give regular public shows, lectures, and teacher development workshops on climate change. I am currently developing a series of teaching resources with Geobus and serve on the board of the Royal Meteorological Society's MetLink outreach programme.
You can follow me on Twitter @mudwaterclimate
PhD projects for 2018 entry
If you are interested in joining my group as a PhD student please take a look at the projects below and get in touch!
Ocean acidification and mass extinction
Snowguns, seesaws, and CO2: million-year to millennial climate and productivity change in the Arctic
Modelling rapid CO2 and climate change in the Southern Ocean
Research Group
Postdocs
PhD Students
1 (of 1 published available) for jwbr with keyword Ecosystem Function clear keyword filter. (source: University of St Andrews PURE)
Please click title of any item for full details


The Secretary
Scottish Oceans Institute
Institiud Chuantan na h-Alba
Gatty Marine Laboratory
East Sands St Andrews
KY16 8LB
Scotland
UK
tel: +44 (0) 1334 463472
fax: +44 (0) 1334 463443
email: soi@st-andrews.ac.uk