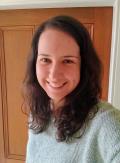 Ms Katherine Whyte

Postgraduate Student
My PhD, at the Scottish Oceans Institute (SOI), focuses on how seals respond to offshore industrial activity. In particular, marine renewable developments, such as pile driving, wind farms and tidal energy extraction, pose a significant, yet poorly understood, risk to seals: noise can cause immediate hearing damage, turbine blades cause physical injury, and prolonged operations can potentially exclude seals from their natural habitat altogether.
Using telemetry data on harbour seals (Phoca vitulina), I am working to quantify the effect industrial activity has on seal behaviour and to what extent its impact can be mitigated by the use of acoustic deterrents.
My PhD is supervised by Gordon Hastie (SMRU), Debbie Russell (SMRU), Len Thomas (CREEM) and Carol Sparling (SMRU Consulting).
Personal website: www.katherinefwhyte.co.uk
Recent publications
0  (of 0 published available) for kfw5. (source: University of St Andrews PURE)
Please click title of any item for full details.
The Secretary
Scottish Oceans Institute
Institiud Chuantan na h-Alba
Gatty Marine Laboratory
East Sands St Andrews
KY16 8LB
Scotland
UK
tel: +44 (0) 1334 463472
fax: +44 (0) 1334 463443
email: soi@st-andrews.ac.uk