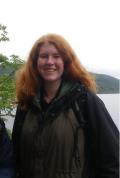 Dr Kelly Robinson

Research Fellow
Current Position:
I am a research fellow at the Sea Mammal Research Unit under Dr Ailsa Hall working on a joint NERC research grant held by Dr Kimberley Bennett at the University of Abertay working on the affects of hormones and persistent organic pollutants on fat tissue function in phocid seals.
Research Interests include:
Hormonal impacts on individual behaviour and physiology
Maternal and social behaviour
Particular interest in the neuropeptide oxytocin, which I conducted my PhD on under Dr Paddy Pomeroy and Dr Neil Hazon at the Scottish Oceans Institute, St Andrews and Dr Sean Twiss at the University of Durham
Please visit my research website for more information about myself and my work: https://kellyrobinsonscience.wordpress.com/
Recent publications
1  (of 1 published available) for kjr33 with keyword
Enzyme-linked immunoassay ELISA
clear keyword filter
. (source: University of St Andrews PURE)
Please click title of any item for full details.
2014 
(1)
Journal of Neuroscience Methods

vol.226 pp.73-79

(Article)
The Secretary
Scottish Oceans Institute
Institiud Chuantan na h-Alba
Gatty Marine Laboratory
East Sands St Andrews
KY16 8LB
Scotland
UK
tel: +44 (0) 1334 463472
fax: +44 (0) 1334 463443
email: soi@st-andrews.ac.uk