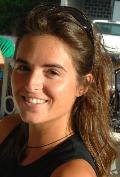 Dr Monica Arso Civil

Post-Doctoral Research Fellow
My research interests focus on marine mammal population dynamics and how these can inform on the conservation status of wild populations.
My PhD thesis focused on the ecology of bottlenose dolphins off the East coast of Scotland, in which I estimated population parameters (survival and fecundity rates) for this resident population and looked at the use of the area of St Andrews Bay and the Firth of Tay.
Current projects
Harbour seal decline project
Populations of harbour seals have been declining around the east and north coast of Scotland and in the Northern Islands since around 2000, while populations on the West Coast and in the Western Islands have been stable or increasing. My research aims to estimate vital rates for harbour seals in areas of contrasting trajectories to inform population dynamics models and ultimately get a better understanding of the main (potential) drivers for the decline.
Check more information at http://synergy.st-andrews.ac.uk/harbourseals/
Bottlenose dolphins in St Andrews Bay and the Tay
Research on bottlenose dolphins conducted in St Andrews Bay and the Tayside since 2003 has shown how this area is used every summer by half of the estimated total population that ranges between the Moray Firth and the Firth of Forth. The entrance to the Firth of Tay has been identified as a high use area for at least part of the population. We are continuing monitoring the use of this area outside the Moray Firth SAC, conducting photo-ID surveys during the summer months.
9 (of 9 /dk/atira/pure/researchoutput/status/published available) for mac64. (source: University of St Andrews PURE)
Please click title of any item for full details


Harbour Seal Decline – vital rates and drivers
Monica Arso Civil,
Izzy Langley,
Andy Law,
Emily Hague,
Eiren Kate Jacobson,
Len Thomas,
Sophie Caroline Smout,
Rebecca Hewitt,
Callan David Duck,
Chris Morris,
Andrew Brownlow,
Nicolas Davison,
Mariel Doeschate,
Bernie J McConnell,
Ailsa Jane Hall
2020
Harbour Seal Decline – vital rates and drivers.
Monica Arso Civil,
Sophie Caroline Smout,
David Thompson,
Andrew Brownlow,
Nicolas Davison,
Mariel Doeschate,
Callan David Duck,
Chris Morris,
Caroline Cummings,
Bernie J McConnell,
Ailsa Jane Hall
2017
Harbour Seal Decline - vital rates and drivers
Monica Arso Civil,
Sophie Caroline Smout,
Callan David Duck,
Chris Morris,
Joseph Alistair Ross Onoufriou,
David Thompson,
Andrew Brownlow,
Nicholas Davison,
Caroline Cummings,
Patrick Pomeroy,
Bernie J McConnell,
Ailsa Jane Hall
2016
The Secretary
Scottish Oceans Institute
Institiud Chuantan na h-Alba
Gatty Marine Laboratory
East Sands St Andrews
KY16 8LB
Scotland
UK
tel: +44 (0) 1334 463472
fax: +44 (0) 1334 463443
email: soi@st-andrews.ac.uk