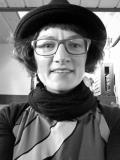 Dr Magda Chudzinska

Statistical Consultant
Research Overview:
9 (of 9 /dk/atira/pure/researchoutput/status/published available) for mec21. (source: University of St Andrews PURE)
Please click title of any item for full details
AgentSeal
Magda Ewa Chudzinska,
Jacob Nabe-Nielsen,
Sophie Caroline Smout,
Sophie Brasseur,
Isla Graham,
Paul Thompson,
Bernie J McConnell
Ecological Modelling
2021 vol. 440
Behavioural synchronization of large-scale animal movements – disperse alone, but migrate together?
Julien Cote,
Greta Bocedi,
Lucie Debeffe,
Magda Ewa Chudzinska,
Helene C. Weigang,
Calvin Dytham,
Georges Gonzalez,
Erik Matthysen,
Justin Mark John Travis,
Michel Baguette,
A. J.Mark Hewison
Biological Reviews
2017 vol. 92 pp. 1275-1296
The Secretary
Scottish Oceans Institute
Institiud Chuantan na h-Alba
Gatty Marine Laboratory
East Sands St Andrews
KY16 8LB
Scotland
UK
tel: +44 (0) 1334 463472
fax: +44 (0) 1334 463443
email: soi@st-andrews.ac.uk