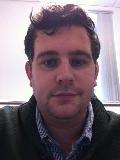 Dr Mike Webster

Lecturer in Behavioural and Evolutionary Biology
My research is concerned with the functions and evolution of social behaviour in animals. I'm particularly interested in how groups are organised, how animals interact and acquire information from one another, and in how individual behaviour affects and is affected by that of the group. For the most part I use shoaling fishes and aquatic crustaceans as study systems for understanding more general aspects of social behaviour.
For more information and a full list of publications please see my other site.
Recent publications
6  (of 6 published available) for mmw1 with keyword
public information
clear keyword filter
. (source: University of St Andrews PURE)
Please click title of any item for full details.
2019 
(20/2)
Royal Society Open Science

vol.6 

(Article)
A four-questions perspective on public information use in sticklebacks (Gasterosteidae)
Michael Munro Webster,
Gabor Herczeg,
Jun Kitano,
Riva Jyoti Riley,
Sean Rogers,
Michael D. Shapiro,
Takahito Shikano,
Kevin Neville Laland
Keywords: Social learning, Social information, Foraging, Cognition
2018 
(12)
Animal Behaviour

vol.146 pp.63-70

(Article)
2015 
(5)
Behaviour

vol.152 pp.1569-1584

(Article)
2015 
(6)
Behavioral Ecology and Sociobiology

vol.69 pp.895-907

(Article)
Space-use and sociability are not related to public-information use in ninespine sticklebacks
Michael Munro Webster,
Kevin Neville Laland
Keywords: Behavioural syndrome, Bold-shy, Innovation, Producer-scrounger, Social learning strategies, TemperamentAnimal Science and Zoology, Aquatic Science, Ecology, Evolution, Behavior and Systematics
2013 
(2)
American Naturalist

vol.181 pp.235-244

(Article)
Environmental complexity influences association network structure and network-based diffusion of foraging information in fish shoals
Michael Munro Webster,
William John Edward Hoppitt,
Kevin Neville Laland
Keywords: contagion, social information, Preferences, public information, Habitat, Predation risk, Poecilia-Reticulata, Behavior, social learning, Threespine stickleback, social network, social transmission, Stickleback gasterosteus-aculeatus, 3-spined sticklebacks, Social networks
2013 
(7)
Animal Behaviour

vol.86 pp.75-83

(Article)
The Secretary
Scottish Oceans Institute
Institiud Chuantan na h-Alba
Gatty Marine Laboratory
East Sands St Andrews
KY16 8LB
Scotland
UK
tel: +44 (0) 1334 463472
fax: +44 (0) 1334 463443
email: soi@st-andrews.ac.uk