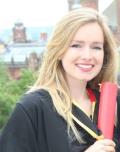 Miss Natalie Sinclair

Postgraduate Student
Some of the strongest evidence for nonhuman culture is found in the complex songs of humpback whales. Our understanding of humpback whale song is helping us to better protect humpback populations across the world, while also increasing our understanding of cultural behaviours in our own species. All male humpback whales within the same breeding population exhibit the same song type at any given time. Whale song also changes gradually, with all singers of the same population updating their song to maintain similarity across the population. Furthermore, song has been found to radiate eastward in the South Pacific, as individuals within adjacent populations learn the neighboring population's song. My research will address two key questions focusing on the transmission of song in the central and eastern South Pacific. Firstly, we don't yet know how the Cook Islands function in the transmission of song to neighbouring populations and secondly, we don't yet know how song is transmitted as we move further eastward, past French Polynesia. My PhD research will address these questions by analysing and comparing long term datasets of songs recorded in the Cook Islands, French Polynesia and Ecuador.
Research Overview:
Data from research@st-andrews is not currently available for ncs4.
Data could not be retrieved from PURE at this time. (research-outputs/persons)
If there is a "source:research@st-andrews" link shown above, that should take you directly to a page with more information about this person. Otherwise, provided they are likely to be involved in research, you might wish to try searching for them from the
researchers page
on the main portal.
The Secretary
Scottish Oceans Institute
Institiud Chuantan na h-Alba
Gatty Marine Laboratory
East Sands St Andrews
KY16 8LB
Scotland
UK
tel: +44 (0) 1334 463472
fax: +44 (0) 1334 463443
email: soi@st-andrews.ac.uk