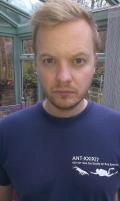 Dr Roland Proud

Research Fellow
Roland Proud (@rolandproud) carries out research as part of the Pelagic Ecology Research Group (PERG) on the ecology and biology of zooplankton and micronekton that live in the open ocean (the pelagic realm). This relies on combinations of acoustic (scientific echosounders) and netting techniques to sample zooplankton/micronekton and gather data enabling to estimate their abundance and map their distribution.
Recent publications
6  (of 6 published available) for rp43. (source: University of St Andrews PURE)
Please click title of any item for full details.
2018 
(28/6)
Marine Ecology Progress Series

vol.598 pp.35-48

(Article)
Fine-scale depth structure of pelagic communities throughout the global ocean based on acoustic sound scattering layers
Roland Hudson Proud,
Martin Cox,
Camille Melanie Marie-Anne Le Guen,
Andrew Stuart Brierley
Keywords: Biogeography, Diel vertical migration, DVM, Acoustics, Water column, Deep scattering later, DSL, Mesopelagic
ICES Journal of Marine Science

vol.Advance Article 

(Article)
From siphonophores to deep scattering layers: uncertainty ranges for the estimation of global mesopelagic fish biomass
Roland Hudson Proud,
Nils Olav Handegard,
Rudy Kloser,
Martin Cox,
Andrew Stuart Brierley
Keywords: Myctophids, DSLs, Acoustics, Swimbladder, Pneumatophore, Scattering models , Resonance
Geophysical Research Letters

vol.44 pp.7382-7390

(Article)
Antarctic pack-ice algal distribution
K. M. Meiners,
S. Arndt,
S. Bestley,
T. Krumpen,
R. Ricker,
M. Milnes,
K. Newbery,
U. Freier,
S. Jarman,
R. King,
Roland Hudson Proud,
S Kawaguchi,
B. Meyer
Keywords: Sea-ice properties, Snow, Freeboard, Chlorophyll-a, Ice algae, Biomass
2017 
(9/1)
Current Biology

vol.27 pp.113-119

(Article)
Biogeography of the global ocean's mesopelagic zone
Roland Hudson Proud,
Martin James Cox,
Andrew Stuart Brierley
Keywords: Pelagic ecology, Ecological geography, Environmental change, Trophic efficiency, Ocean warming, Marine acoustics, Deep scattering layers, Longhurst, Myctophid
2015 
(10)
Methods in Ecology and Evolution

vol.6 pp.1190-1198

(Article)
A method for identifying Sound Scattering Layers and extracting key characteristics
Roland Hudson Proud,
Martin James Cox,
S. Wotherspoon,
Andrew Stuart Brierley
Keywords: Biological communities, Biological layers, Deep scattering layers, Diel Vertical Migration, Marine acoustics, Mid-trophic level, Pelagic ecology, Sound scattering layer extraction method, SSL metrics
2015 
(5)
Aquaculture Environment Interactions

vol.6 pp.273-284

(Article)
Connected networks of sea lice populations
Thomas P. Adams,
Roland Hudson Proud,
Kenneth D. Black
Keywords: Metapopulation, Spatial dynamics, Dispersal, Population connectivity, Sea lice management, Salmon salmo-salar, Farmed Atlantic salmon, Louse lepeophtheirus-salmonis, Mathematical-model, Scotland, Hardangerfjord, Dispersion, Infection, Growth, Trout
The Secretary
Scottish Oceans Institute
Institiud Chuantan na h-Alba
Gatty Marine Laboratory
East Sands St Andrews
KY16 8LB
Scotland
UK
tel: +44 (0) 1334 463472
fax: +44 (0) 1334 463443
email: soi@st-andrews.ac.uk