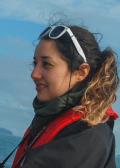 Ms Sara Tavares

Postgraduate Student
I am a PhD student supported by the Fundação para a Ciência e a Tecnologia (FCT). I am affiliated with the Scottish Ocean Institute (SOI) and Sea Mammal Research Unit (SMRU). My research area is marine biology and I'm particularly interested in studying the behaviour and sociality of marine mammals.
The main focus of my PhD thesis is the sociality of the Icelandic killer whale (Orcinus orca) population. I'm studying the social structure of the population using photo-identification (photo-ID) and genetics. My goal is to describe the social organization of the Icelandic killer whale population, examine the dynamics of social networks among individuals and assess how relatedness affects relationships in this population.
Current projects
Icelandic orcas
I'm an investigator in the Icelandic orca project (www.icelandic-orcas.com). Our research focuses on the social and foraging behaviour of orcas while monitoring which individuals can be regularly seen in Iceland to gain a better understanding of the population size and status.
Publications
Tavares, S.B., Magalhães, A. & de Sousa, L., 2015. Labrador retrievers are more attracted to water than to social stimuli: A pilot study.
Journal of Veterinary Behavior: Clinical Applications and Research
, 10(6), pp.465–470. Available at: http://www.sciencedirect.com/science/article/pii/S1558787815001422
The Secretary
Scottish Oceans Institute
Institiud Chuantan na h-Alba
Gatty Marine Laboratory
East Sands St Andrews
KY16 8LB
Scotland
UK
tel: +44 (0) 1334 463472
fax: +44 (0) 1334 463443
email: soi@st-andrews.ac.uk