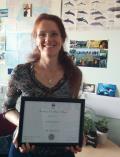 Dr Sonja Heinrich

Senior Lecturer & Director of Postgraduate Teaching
Departmental duties
Director of Postgraduate Teaching
Chair, Postgraduate Teaching Committee
Module organiser:
BL5210 - Principles of marine mammal biology
BL5104 - Conservation & management of marine mammals
BL5124 & BL4301 - Predator ecology in polar regions (Antarctic field trip)
Contributing to BL5310 (Marine Biodiversity & Ecosystem Function), BL5304 (Ecosystem-based Management of Marine Systems), BL4258 (Foraging in Marine Mammals)
St Andrews Teaching Excellence Award 2016
Research Interests:
Marine predator ecology - abundance, distribution & habitat use, species interactions, conservation of vulnerable species, polar regions,
Research students@ St Andrews
Phd student (2010-2015): Marina Costa (jointly with Prof Hammond), Sympatric ecology of delphinids in the Egyptian Red Sea.
MSc(Res) (2019-2020): Grant Ellis, Habitat use of Hector's dolphins off Kaikoura, New Zealand
MSc (taught) - 2-4 students per year
Research Projects:
Chiloe Small Cetacean Project (PI)
Conservation ecology and population assessments of small cetaceans in southern Chile (e.g. PI for abundance & collaborator for Chilean dolphin bycatch assessment project))
Sympatric ecology of Lagenorhynchus/Cephalorhynchus dolphins (PI)
Habitat use & abundance of coastal dolphins in the Falkland Islands (collaborator with SAERI)
Using platform of opportunity data to investigate distribution and ecology of Antarctic marine top predators (co-PI with Dr Lars Boehme)
Professional Representation:
Member: IUCN Cetacean Specialist Group and Cetacean Red List Authority.
Research Overview:
sympatric ecology, conservation biology of marine mammals,
Data could not be retrieved from PURE at this time. (research-outputs/persons)
If there is a "source:research@st-andrews" link shown above, that should take you directly to a page with more information about this person. Otherwise, provided they are likely to be involved in research, you might wish to try searching for them from the
researchers page
on the main portal.
The Secretary
Scottish Oceans Institute
Institiud Chuantan na h-Alba
Gatty Marine Laboratory
East Sands St Andrews
KY16 8LB
Scotland
UK
tel: +44 (0) 1334 463472
fax: +44 (0) 1334 463443
email: soi@st-andrews.ac.uk