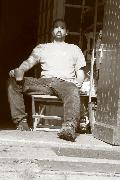 Dr Tiago Marques

Research Fellow
Extending distance sampling under situations for which the conventional methods do not hold, namely in the presence of measurement error and non uniform distribution of animals with respect to samplers. Estimating cetacean abundance using passive acoustic data.
Recent publications
12  (of 12 published available) for tam2 with keyword
Habitat
clear keyword filter
. (source: University of St Andrews PURE)
Please click title of any item for full details.
Diversity and Distributions

vol.Early View 

(Article)
How to fit the distribution of apex scavengers into land‐abandonment scenarios? The Cinereous vulture in the Mediterranean biome
Isabel García‐Barón,
Ainara Cortés‐Avizanda,
Peter H. Verburg,
Tiago A. Marques,
Rubén Moreno‐Opo,
Henrique M. Pereira,
José A. Donázar,
Lluís Brotons
Keywords: Aegypius monachus, Socio-economies, European Union, Farmland, Land abandonment, Ecological rewilding
2017 
(16/1)
Agriculture, Ecosystems & Environment

vol.237 pp.280-289

(Article)
2017 
(1/12)
Journal of Fish and Wildlife Management

vol.8 pp.377-386

(Article)
Techniques for estimating the size of low-density gopher tortoise populations
Jonathan M. Stober,
Lora L. Smith,
Tiago A. Marques,
Len Thomas
Keywords: Abundance, Burrows, Cluster size analysis, Gopher tortoise, Line transect distance sampling, Population density, Systematic samplingAnimal Science and Zoology, Ecology, Evolution, Behavior and Systematics, Ecology, Nature and Landscape Conservation
Polar Research

vol.36 

(Article)
The number and distribution of polar bears in the western Barents Sea
Jon Aars,
Tiago A. Marques,
Karen Lone,
Magnus Andersen,
Øystein Wiig,
Ida Marie Bardalen Fløystad,
Snorre B. Hagen,
Stephen Terrence Buckland
Keywords: Ursus maritimus, Distance sampling, Sea ice, Habitat loss, Svalbard, Helicopter
2017 
(25/4)
Frontiers in Marine Science

vol.4 

(Article)
Underwater ambient noise in a baleen whale migratory habitat off the Azores
Miriam Romagosa,
Irma Cascão,
Nathan D. Merchant,
Marc O. Lammers,
Eva Giacomello,
Tiago A. Marques,
Mónica A. Silva
Keywords: Underwater noise, Ship noise, Baleen whale, MSFD, Open ocean environment
2016 
(10)
European Journal of Wildlife Research

vol.62 pp.577–587

(Article)
A new insight for monitoring ungulates
Ana M. Valente,
Tiago A. Marques,
Carlos Fonseca,
Rita Tinoco Torres
Keywords: Capreolus capreolus, Density surface models, Distance sampling, GAM, Iberian PeninsulaManagement, Monitoring, Policy and Law, Nature and Landscape Conservation, Ecology, Evolution, Behavior and Systematics
2015 
(8)
International Journal of Primatology

vol.36 pp.802-822

(Article)
2015 
(25/6)
PLoS One

vol.10 

(Article)
Detectability in audio-visual surveys of tropical rainforest birds
Alexander S. Anderson,
Tiago A. Marques,
Luke P. Shoo,
Stephen E. Williams
Keywords: Distance-sampling methods, Australian wet tropics, Point-count surveys, Climate-change, Population-size, Transect counts, Measurement error, Breeding season, Abundance, Density
2015 
(2)
American Journal of Primatology

vol.77 pp.186-199

(Article)
2014 
(6)
American Journal of Primatology

vol.76 pp.515–528

(Article)
New density estimates of a threatened sifaka species (Propithecus coquereli) in Ankarafantsika National Park
Célia Kun-Rodrigues,
Jordi Salmona,
Aubin Besolo,
Emmanuel Rasolondraibe,
Clément Rabarivola,
Tiago A. Marques,
Lounès Chikhi
Keywords: Propithecus coquereli, Distance sampling, Population density, Abundance, Edge effect
2013 
(8)
PLoS One

vol.8 

(Article)
Population status of Pan troglodytes verus in Lagoas de Cufada Natural Park, Guinea-Bissau
Joana S. Carvalho,
Tiago A. Marques,
Luis Vicente
Keywords: Western chimpanzee, Pan troglodytes verus, Endangered species, Habitat, Population size, Population density, Lagoas de Cufada Natural Park , Human disturbance, Conservation
2011
Bird Conservation International

vol.21 pp.477-489

(Article)
The Secretary
Scottish Oceans Institute
Institiud Chuantan na h-Alba
Gatty Marine Laboratory
East Sands St Andrews
KY16 8LB
Scotland
UK
tel: +44 (0) 1334 463472
fax: +44 (0) 1334 463443
email: soi@st-andrews.ac.uk