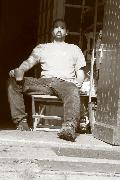 Dr Tiago Marques

Research Fellow
Extending distance sampling under situations for which the conventional methods do not hold, namely in the presence of measurement error and non uniform distribution of animals with respect to samplers. Estimating cetacean abundance using passive acoustic data.
Recent publications
1  (of 1 published available) for tam2 with keyword
Phenology
clear keyword filter
. (source: University of St Andrews PURE)
Please click title of any item for full details.
2015 
(8)
International Journal of Primatology

vol.36 pp.802-822

(Article)
The Secretary
Scottish Oceans Institute
Institiud Chuantan na h-Alba
Gatty Marine Laboratory
East Sands St Andrews
KY16 8LB
Scotland
UK
tel: +44 (0) 1334 463472
fax: +44 (0) 1334 463443
email: soi@st-andrews.ac.uk