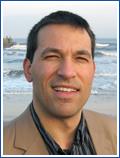 Dr Timothy Stojanovic

Lecturer in Sustainable Development and Geography
I am involved in a NERC research project entitled CBESS with Prof David Patterson in Biology. As part of the project, I am doing some research on the topic of 'Cultural Ecosystem Services.' The goal of the research is to explore links between biodiversity at different scales, and different kinds of benefits that are related in terms of aesthetics, recreation, sense of place etc. We are particularly focussing on saltmarsh and mudflat ecosystems.
Research Overview:
Data could not be retrieved from PURE at this time. (research-outputs/persons)
If there is a "source:research@st-andrews" link shown above, that should take you directly to a page with more information about this person. Otherwise, provided they are likely to be involved in research, you might wish to try searching for them from the
researchers page
on the main portal.
The Secretary
Scottish Oceans Institute
Institiud Chuantan na h-Alba
Gatty Marine Laboratory
East Sands St Andrews
KY16 8LB
Scotland
UK
tel: +44 (0) 1334 463472
fax: +44 (0) 1334 463443
email: soi@st-andrews.ac.uk