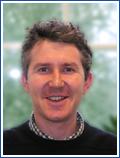 Prof Bill Austin

Professor
Research Overview:
Palaeoceanography, Marine Geology, Foraminifera, Stable Isotopes, Climate Change.
See Environmental Change Research Group for more information.
My research focus is directed primarily at reconstructing past climate change from marine records, with a particular focus on the late Quaternary. I work extensively with foraminifera and have a growing research interest in the use of biogeochemical proxies and their application to foraminiferal-based palaeoceanography. Over the last decade, I have established a research interest in the application of tephrochronology to constrain North Atlantic stratigraphies, an interest which overlaps with recent work on marine radiocarbon reservoir ages. The primary geographical focus of my research is the North Atlantic continental margins and shelf seas.
Data could not be retrieved from PURE at this time. (research-outputs/persons)
If there is a "source:research@st-andrews" link shown above, that should take you directly to a page with more information about this person. Otherwise, provided they are likely to be involved in research, you might wish to try searching for them from the
researchers page
on the main portal.
The Secretary
Scottish Oceans Institute
Institiud Chuantan na h-Alba
Gatty Marine Laboratory
East Sands St Andrews
KY16 8LB
Scotland
UK
tel: +44 (0) 1334 463472
fax: +44 (0) 1334 463443
email: soi@st-andrews.ac.uk